Journey to Tour Aotearoa
In October 2018 I got injured whilst riding the Old Ghost Road. I torn my hamstrings at the beginning of day 2 of the ride. With 54kms until the finish riding was rather painful experience.
Couple of months and a few physio sessions later I decided to ride at least 100km per week to deal with the injured leg.
Around the same time I quit drinking alcohol so keeping myself busy riding 100km weeks felt like a good way forward.
Then I found about the Tour Aotearoa and signed up for the 2020 brevet in February 2019.
In March 2019 it felt like a good idea to start whitewater kayaking so I signed up for grade 2 whitewater kayaking course in early April and loved it. After the course I joined the local club and did couple of late autumn/early winter trips. Swam a lot. Learned a lot.
I spent winter 2019 riding 100kms a week and practicing kayak rolling in a pool once a week.
I started work on a list of gear that I need for TA and started buying gear I was missing.
In September I did 236kms trip around the Banks Peninsula to test my new touring setup. Everything felt new, but it was a fun weekend with 5341m of climbing over two days and a lesson learned that I really need to focus on weight that I carry around.
I did another grade 2 whitewater kayaking course in October and a club trip on a river after that. With all the rolling sessions I was also doing, kayaking was a great fun way to mess up with my 100kms a week goal.
I finished the year with 5400kms which felt rather good. I loved riding my bike and the rouring setup was also coming together nicely.
In January 2020 the number of week until the tour felt like a coundown with so many things to get done before.
My 100kms a week was impossisble to maintain. I had to focus on getting things done on the house and I gave myself a crazy strech goal to get done to spice things up.
I managed to squeeze in one big ride on February 1st I rode St James trail. 116kms and 2200 meters of climbing in a single long day and my full touring setup as I would ride it on the tour.
Well. After St James I took the gear and split it on yay and nay piles, because I had way too much stuff on me. The result was a 7kg bag of things I thought I need, but I did not. I never missed any of that stuff on the TA. With all off that done I have put everything that I need for TA back in the pannier bags and the bike and all of my gear for ready to be taken to Cape Reinga in a few weeks time.
A week before TA whilst I was installing plasterboards a piece of plaster fell into my eye and somehow managed to stay there overnight. In the morning I woke up to an excrutiating pain and I was at emergency shortly after. 48 hours and many eye drops later I could see again properly.
The number of weeks countdown became number of days coundown and it was time to get to Cape Reinga.
---
Journey to Cape Reinga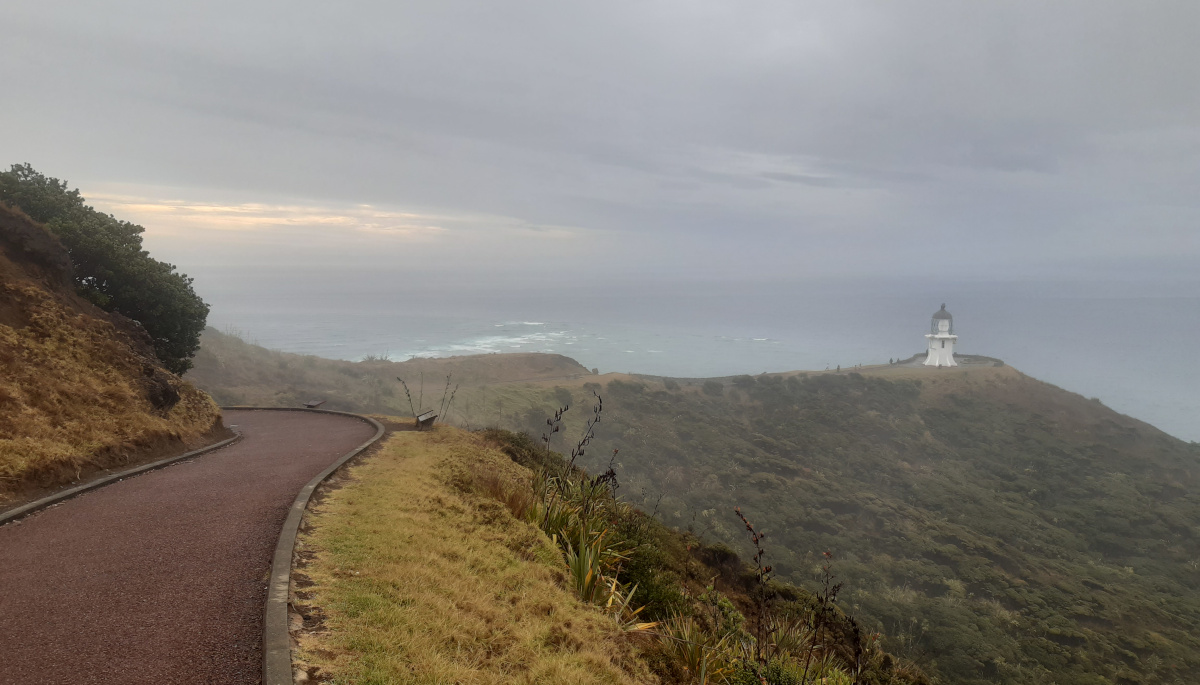 There were few options of how to get to the start. In the end we booked a car relocation from Christchurch to Auckland. They have us a car to relocate for four days for free with unlimited kilometers and a full petrol tank.
We picked up the car on February 20th in the morning. Bike and the gear was ready since the St James ride so I loaded it all into the car and we could go.
We left one of cars at the airport long stay car park for wifey to get back home on her way back and then continued in the relocation car to Picton.
We stayed at Picton over night. In the motel where we stayed we met two other riders who were heading to do Kopiko Aotearoa. One of the riders was the same person I met at St James at the beginning of the month.
There are no coincidences!
The next day we took feery across to Wellington and drove up to Hamilton and on Saturday we drove up from Hamilton to Cape Reinga.
We stayed at Taputaputa campsite overnight with other riders who I was starting with the next day.