Omapere to Dargaville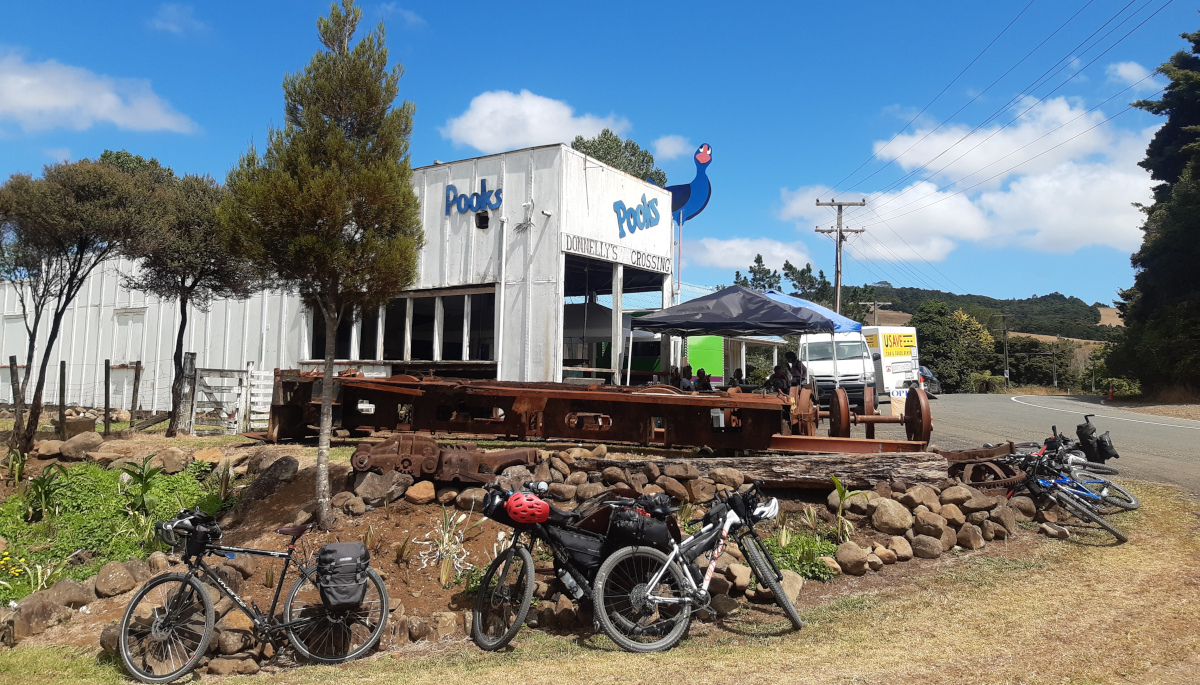 I don't think I have done a ride longer than two days so day three felt a bit special in that regard. I felt tired but I was not in pain.
Todays' climb to Tane Mahuta looked scarier in the guidebook than it really was.
Tane Mahuta, Lord of the Forest is a 2000 years old Kauri tree and is one of the largest trees of New Zealand.
Because Kauri trees are dying, one has to wash their shoes before entering a boardwalk to see Tane Mahuta.
When I got there and took a photo control point selfie I heard a Maori guide singing as he was approaching the tree with a bunch of tourists. I stayed where I was and enjoyed a free lecture about the three and the forest around it. It was truly special.
After that I rode through the Waipoua Kauri Forest and enjoyed the scenery. Because I decided to only get to Dargaville today I was in no rush.
I stopped at the Donnellys Crossing Cafe for lunch. Lovely spot and with a lot of TA riders stopping by.
After the lunch I continued towards Dargaville. It was rather hot and dry so I was drinking plenty of water.
Since the forest there were a lot of Kauri shops along the road, but I had many kilometres in front of me so souvenir shopping was not something I wanted to do.
Few kilometres before the Dargaville I met my first trail angel. A boy with free water melons for TA riders. We had a chat whilst I enjoed a slice of a melon. It felt really good on this scorching hot summer day.
I arrived in Dargaville just before 5pm, found a holiday park and pitched my tent up along a few other TA riders.
Then I made a mistake of going to a supermarket hungry as. I bought way too many things and then I stopped to get some fish&chips on my way back to my tent.
After the dinner and few 0% beers I creamed up and hit the sack. The night was warm. My body was sore, but uninjured. Tomorrow should be a short day to Pouto Point and time to relax for a bit until the boat across the harbour arrives on Thursday morning.