Nov 21, 2010
Pegs went in to mark the location of the house.
Nov 26, 2010
Visited shipping container yards. As expected after the shortage in June-August there aren't piles of good containers laying around Christchurch.
Dec 01, 2010
Awaiting confirmation from an excavation company guy whether he comes to dig all the trenches on Saturday or not. Latest re containers: we may even have one or two 40ft containers by Friday.
Dec 04, 2010
Things worked out completely different way at the end. We hired an excavator from Hirequip. Darryl helped us take the machine to and back from the section and Mr.Ralph Ogg helped us to dig the foundation trenches. Two hours of nice and clean digging work and he was done. We hired 1.8t excavator at 7am and returned it back before 2pm.
Digging foundation trenches (Dec 04, 2010):
Dec 16, 2010
Progress made on many fronts. Had a discussion with a plumber, drain layer, electrician, crane operator, kitchen designer and steel supplier. Managed to move on with the foundation boxing and organized two (out of 3) 40ft containers.
2 out of 3 40ft shipping containers for our house arrive (Dec 16, 2010):
Dec 17, 2010
Rainy day. Steel for the foundation arrived.
Steel for the foundation arrived (Dec 17, 2010):
Dec 18, 2010
More work on boxing. Sammy spread the steel "puzzle" around the boxing as per provided plan. Then we put all the steel in and tied everything together.
Dec 19, 2010
More work with steel and boxing. Aiming to get first inspection (foundation) by Selwyn District Council (SDC) done by Wed Dec 22.
Dec 20, 2010
Kara rang SDC and booked the inspection. Work-wise we are almost there.
Dec 22, 2010
Meeting SDC inspector after 1pm. Things look good. But. I totally forgot about getting done an inspection of the foundation by an engineer from Aurecon (a company that helped us with structural engineering part of the house design). SDC inspector is okay to get the other inspection done ASAP as long as it's done before he visits us for our next inspection.Also, bottom rod doesn't have enough clearance in places. That is inspector's only comment. We may proceed with work. Of course, clearance must be achieved first.I oranized the other inspection by engineer in the afternoon and we got it done the next day morning. Just before their company shut down for Xmas break. Great timing!Lessons learned: 1) re-read related documents before the action so you won't forget about anything; 2) dig deeper trenches than what you think is enough!
Dec 27, 2010
Back into it after Christmas. Managed to clean a bit of foundation to get enough clearance for bottom rod. Also more tidying work on boxing. Also burned my back on the Sun completely. Painful as. Shouldn't be so stupid.
Dec 28, 2010
Rainy day. Picked up last bits of foundation boxing from the guy I've bought the first lot from (via TradeMe).
Dec 29, 2010
Removing dirt to get more clearance for the bottom rod. Work goes really good after the previous day of rain. Job well done. All cleared. Foundation boxing looks really good now.
Dec 30, 2010
Started moving soil that is laying around the foundation. It's holiday so no luck to get any concrete for the foundation now.
Jan 03, 2011
Moved some more soil around.
Foundation of our shipping container house - Ready to pour concrete in (Jan 03 2011):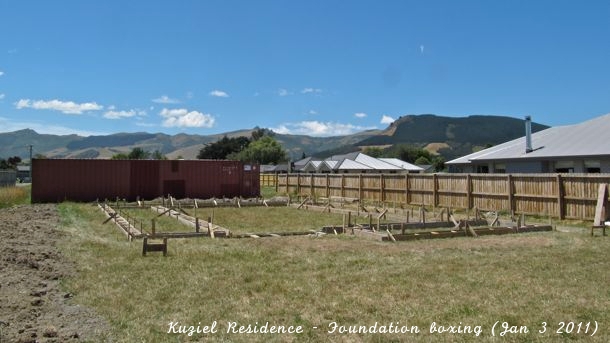 Jan 06, 2011
Poured 11m3 of concrete.
"The Hornets" pouring concrete (Jan 06, 2010):
Foundation of our shipping container house - Pouring concrete (Jan 06 2011):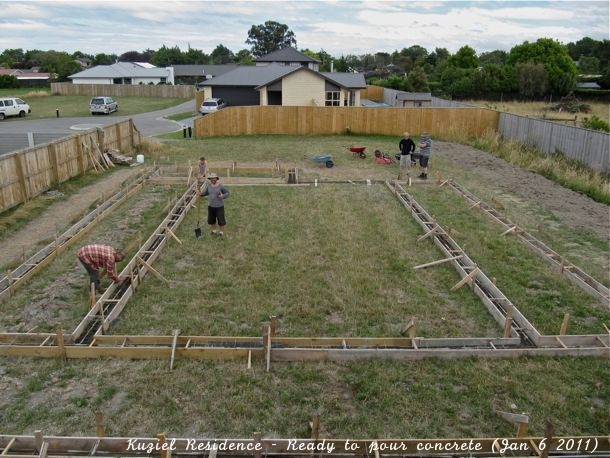 Jan 07, 2011
Poured another 5m3 of concrete. The foundation are done!
Foundation Pouring Team "The Hornets" a.k.a Andy, Gabo, Jared, Marek, Ondrej, Sammy, William. Thank you guys! (Jan 6 - 7 2011):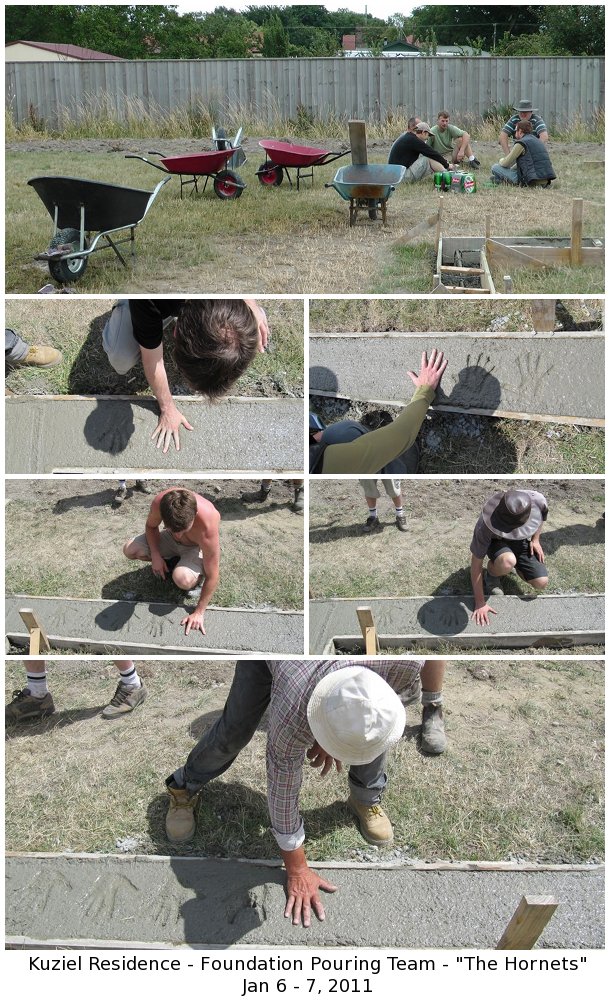 Jan 08, 2011
Boxing out and stacked up.
The House Foundation (Jan 8 2011):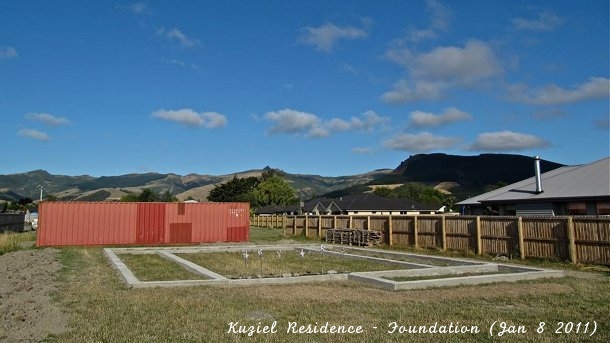 Jan 21, 2011
Site scraping and filling the foundation with washed rounds (Jan 10-21, 2010):
Site scraped and foundation filled with washed rounds (Jan 21 2011):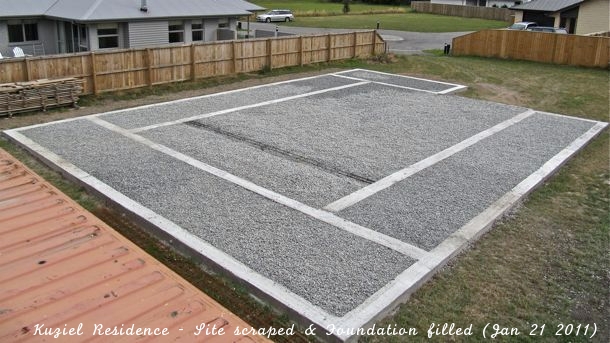 ---
Next: Chassis