Feb 09, 2011
I started chasing up the last two containers on Feb 1. We got lucky. 20ft container for our kitchen got delivered on Feb 3 and was put to its final position straight away. The last remaining 40ft container arrived on Fri Feb 4. I organized crane for Monday Feb 7 to get the containers on top of the foundation. After lovely summer weekend, there was rain pouring down from sky on Monday. Never mind the rain we got the containers on their positions. Pretty accurately. Basic structure ("framing") of the house is now done.
Basic structure of the house (Feb 8 2011):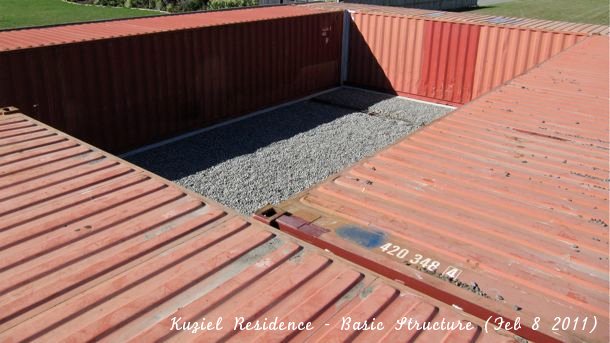 Basic structure of the house (Feb 8 2011):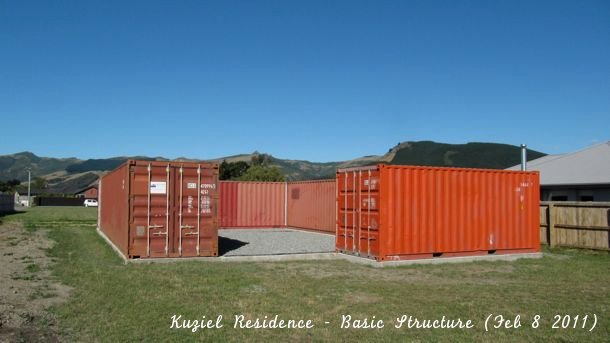 Apr 09, 2011
Two months since the last update. Lot of progress on many front lines. We have worked on five big tasks in the last eight weeks:
Cuts to the containers
7-ply plywood floor removal
Connections of services
Cleaning of the containers
Getting a bank loan
Cuts to the containers
Feb 18, 2011
I bought 230mm angle grinder called "Predator" for $62NZD. Real bargain. The first one broke after one day of cutting through a container wall. The second one seems to be doing much better.
Mar 8, 2011
We finished nineteen days later. All cuts done. Three cuts for bedrooms, sunroom and kitchen. And cuts for seven doors and seven windows.
7-ply plywood floor removal
I decided that the plywood floor from the containers need to go out so we could fill the spacewith concrete to increase mass of the floor and therefore an insulation and thermal mass capacity for the house.
I knew it is going to be a tough job, but I convinced our architects to incorporate this idea into the house plans they prepared for us.
It tooks us two days to get floor out from one container. Spanned across two-three weeks we got all the plywood floor our and cleaned the now exposed steel cross-section members.
Connections of services
Feb 12, 2011
We got a trench for most of the services for the house dag. I started organizing getting electricity and telecom cables to be laid in and also certified electrician to provide us with a meter box, get a inspection done and connect the house with (temporary) electricity supply. We will get proper supply (different meter) when we move in.
Feb 22, 2011
6.3 magnitude earthquake (an aftershock actually) struck in Christchurch.
Mar, 2011
We managed to keep the project running and continue our work.
Electricity

&

Telephone - got cables laid in early March. Managed to get meter box installed and get electricity running on March 23 2011.
Street light - we found that we need to connect our street light by ourselfs. Fortunately we found about it before backfilling the trench so separate cable went in to connect the light.
Water - because we had the trench open we though to also use it for a water pipe for the main connection of water for the house. We placed a pipe to the trench before we backfilled it.
Cleaning of the containers
At the end of March things got complicated, because we ran out of money to be able to continue buying materials required for the build. However, we still had few things to work on so we started cleaning footings of containers from rust and painting with primer.
Getting a bank loan
After more than 4 months dealing with our bank, our home loan application got declined. Trying to build unique type of house in a quake hit zone is not an ideal scenario for getting a loan from a bank. Although a bit surprising considering the type of materials used.
I contacted a mortgage broker and we started work on getting a home loan again.
Apr 17, 2011
Work on the chassis continues. We got steel, paint and DPM sorted.
Apr 13, 2011
Although the project is currently running on limited cash we bought steel required to finish off the house chassis and also marine grade primer paint so the chassis can be completed. This would be mean accomplishing another major milestone of the build.
More steel for the house chassis arrives (Apr 13 2011):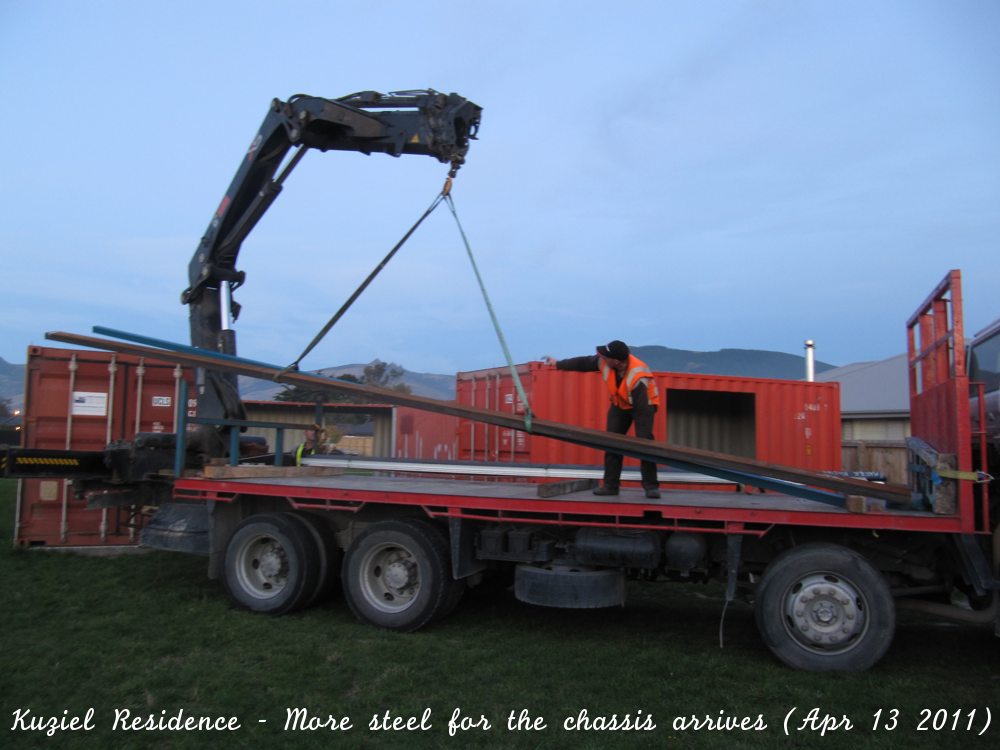 Apr 16-17, 2011
We spent whole Saturday adding 15 and 17 metres long sheets of Polythene (DPM) under the containers. We added two small bits on Sunday. In summary, after a day and 1/4 of effort, with appropriate laws of physics applied, Damp Proof Membrane (DPM) a.k.a Polythene is now under the containers.
Damp Proof Membrane added (Apr 17 2011):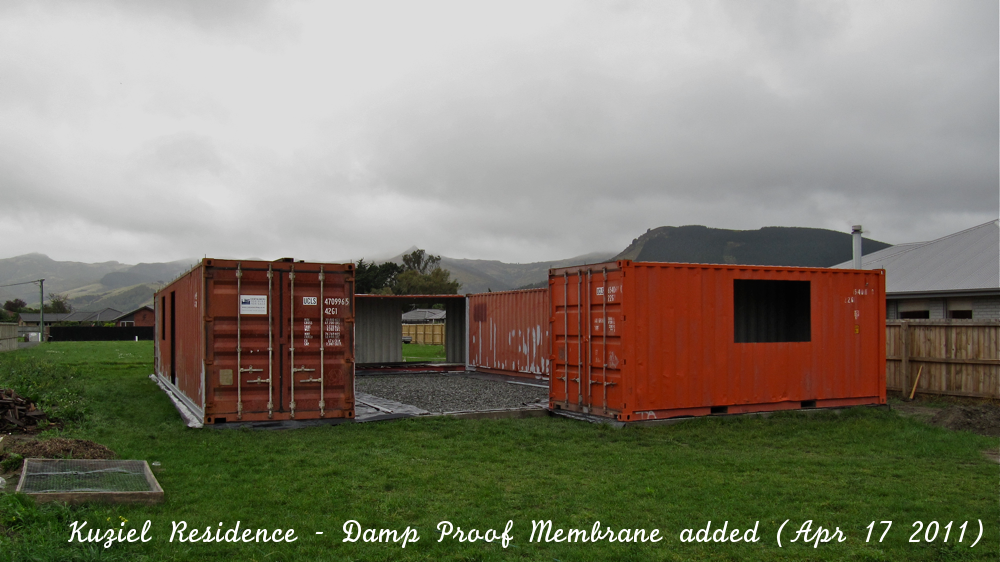 Update - May 29, 2011
It is 42 days since the last update. Making chassis takes time. We had a plenty of steel to cut and weld onto the containers. 125mm angle grinder and 140A welding machine bacame my best friends.
Project also continued on a few other front-lines, too. Another factor that had impact on our pace and progress was weather. We've had spells of beautiful autumn days and spells of dark and rainy days during which we still continue our work.
Steel details
Chassis has plenty of various details that we started working on after the steel arrived.
The following list of things got done:
beams above three major internal cuts
plates for attachment of roof trusses and hyspan beams
connections between the containers
internal doors and wall frames
external doors and windows frames
plates to attach the containers to the foundation
top and bottom external framing attachments
stiffeners, and other plates where appropriate
Some of the things mentioned above are still in progress. However I am getting there.
The containers got also bolted to the foundation and we also bolted them together at the roof connections.
Piping
Matt (a friend of ours who is a plumber) came at the end of April to start work on adding pipes for kitchen, laundry, toilets, shower, bath and basin.
In many cases there were cuts required to get a pipe where it suppose to be so we identified all the places for me to cut off later on. Few 230mm x 2.5mm and many 125mm x 1mm cutting disks later I had all of the cuts for pipes done.
Matt came back and we placed in all the pipes.
Cutting off the container doors
May 5, 2011
I cut off and then kicked off the doors from the container no.1 aka bedrooms container.
Kicked a container door off :-) (May 5, 2011):
May 28, 2011
Sammy and I got more doors "kicked" off.
More doors kicked off (May 28, 2011):
Painting
May 14, 2011
We started cleaning, grinding, brushing off and finally spray painting roof. It took two days to get a layer done. We did two layers. The marine paint changed nicely the look & feel of the chassis, although the change was visible only from the air.
May 28, 2011
The chassis is ready enough to get a first layer of paint on. Sammy started paiting the kichen, while I worked on more details of the chassis.
Other front-lines..
In summary, the following also happened in the last 42 days:
Talked to a carpenter/master builder regarding roof frame that is made out of timber
Talked to a roofer the get the roof finished
Got all of the window and door frames sealed neatly
Got the external windows/doors frames measured so they can be made to fit into the frames
Organized timber for roof
Talked to central heating guys regarding the heating system
Tried to organize and finalize everything regarding a bank loan.
It's been an interesting ride so far. I am hoping to get the chassis finished in the new couple of weeks. It is probably the longest stage of the build due to many small to big jobs that we need to get done.
Update - June 12, 2011
Good progress in the last two weeks. I have a set of thirteen tasks to do before I can call another round of inspections and then hopefully call the chassis phase done. The following is a summary of things achieved since the last update.
Painting Kara and I continued spray painting the chassis and got all external container walls done and started on the interior walls. There is still two and a half container to paint to get done the whole lot. Once the first layer is done we can move onto spraying second layer.
Details this currently feels like a never ending set of small details to angle-grind and weld onto the containers. I've got roughly another 90 pieces to go. Maybe 100. Something always pops out.
Sealing got another layer of sealing applied to frames of doors and windows and some container details. This time it was an expansion foam that helped to fill gaps and spaces I don't want to have in the chassis. It's kind of like a car chassis final touches, but in this case it is the steel chassis of our house.
Fence as you can see on the photos above there is no fence in the back of our house. Well, that is not true as of June 11. I organized and got all timber for the fence on Friday and we built it up on Saturday. Thanks to Andy and Ondrej for their help!
Money I started organizing a loan for the house build in November 2010. This definitely is the most frustrating part of the project so far. Anyway, eight months and one move from our old bank to our new bank later, we got our loan. I still don't really understand how we managed to get this far with our shoestring budget, however, it defitely shows how economic this solution is. And sturdy as.
Note, a new set of photos will be posted once the chassis is done.
Update - August 27, 2011
Two and a half month of hard work on the chassis. Toughest part of the project, yet. Spiced up with 5.7 and 6.3 quakes on June 13 and two snowstorms later on in August.
Update - September 18, 2011
This update is overdue for a long time. The following is an attempt to write down all I can remember from the last three months of the project.
As I briefly mentioned, we've had some quakes and snowstorms going on, however, work continued without any major breaks.
Chassis - stiffeners, brackets and other steel work
Making things out of steel is fun. Kind of. You need to know how to work with an angle grinder and a welding machine. I use 125mm DeWalt grinder and 140A electric welding machine.
All you need is steel flat bars, angles, or pipes and time to get it done. Knowing what you are making and how many pieces of the same thing you need are essential ingredients, too.
When an idealistic world of drawings and plans hits a cynical world of reality, it is time to improvise and be practical. That's the point when real fun starts.
If I previously stated that we managed to get quite far on a shoestring budget, I was definitely right. Although, it is important to mention that we got that far only because the chassis required many details to get done. Considering I did most of that work myself, I had to spend money only on the material. I wouldn't like to see a bill for all that work on all those details, if I had to get someone to get it done for us.
I spend second half of June and beginning of July working towards chassis inspection from a structural engineer to get a PS4 (producer statement) for the chassis. That and one more inspection for the same thing from the council and I can call the chassis done. I got PS4 without any troubles. The inspection from council is a different story which I save for later.
T-brackets for posts / One of many details of the chassis. Custom made T-brackets installation:
Underfloor heating - heatpump pipes
Pipes for the underfloor heating system were installed on June 15. Pipes will connect underfloor heating system to air-to-water heatpump installed outside.
Central slab,
DPM

, Rondo framing and more steel

One thing I have been postponing until all welding and details are done was work on the central area a.k.a "courtyard". Chassis wouldn't be complete without it, because it was required to be finished before I call the chassis inspection from the council.

On June 25 I hired compacting machine and spend couple of hours running around the shingle. I also dug out shingle from under the D16 steel rods for the support rib for the feature wall. Then I added remaining DPM (Damp Proof Membrane).

I decided to buy 100+ metres of D16 steel rods so I can make additional ties between the containers. I created a grid of D16 rods and welded their ends to the sides of the containers. These should hold them nicely together once embedded in concrete.

I also added new boxing for the cental slab and started working on plates for Rondo rails and started with installeation of those rails so I can make an external framing.
Amendments
On July 4 guys from NK Windows (local manufacturer of German PVCu windows and doors) installed first ("in-service") window. The kitchen window.
We installed the in-service window so I could make photos so changes can be made in plans amend the windows and doors details so we can ask council for amendments approval.
In case I haven't said this before then this is a very good time: this is a unique project. I trust that a lot of things we're doing haven't been done before. Well, certainly not in New Zealand. Two and a half months since we installed the in-service window and I believe that mail or email with amendments approved and chunky invoice from the council attached should be somewhere on its way to me.
Drains, inspections and other dramas
After I had the chassis work done I decided to do some digging again and make plumbing and drainage installation. That way I'd have all connections from/to the house finished and I could fully focus on getting the house finished.
We started early in the morning on Friday July 8th. First, all trenches got dug out and then all pipes went in and got connected to the house.
I rang to schedule an inspection for Monday next week on the same day.
Do not schedule inspections on Mondays. Simply not a good day. I failed the inspection and had to re-do couple of things. Fixing bugs as we "computer monkeys" call it.
It took a week to get back to those issues. It was a lenghty exercise, but we got it done.
Re-inspection on Wednesday July 20 went smoothly. Well, I almost had a heart attack, but it wasn't because of drains.
Everything with drains was just fine, that wasn't a problem. Problem was that thanks to thousands of quakes we're still going through since September 4 2010, also our legislation is seeing some rapid changes. To cut this dramatic episode really short, few weeks later I could call the chassis inspection without having any question marks flying around.
After the drains re-inspection I started covering-up the trenches. Timing worked out really well. I covered them all up just before the whole country turned white after a snowstorm on July 25. I returned to the site on July 27. Snow was still melting.
The last thing before the main chassis inspection was to clean-up, re-fill and cover up with DPM all of the pipes for services and kitchen. Then added and tie mesh for the central slab and we were done.
On Friday, August 12, 2011 we got the house chassis inspected and it went all well. Six months since we placed the containers on the house foundation. Six months of hard work to get this stage done.
After a snowstorm, house chassis, freshly re-filled drainage trenches and in-service window in the kitchen. July 27 2011: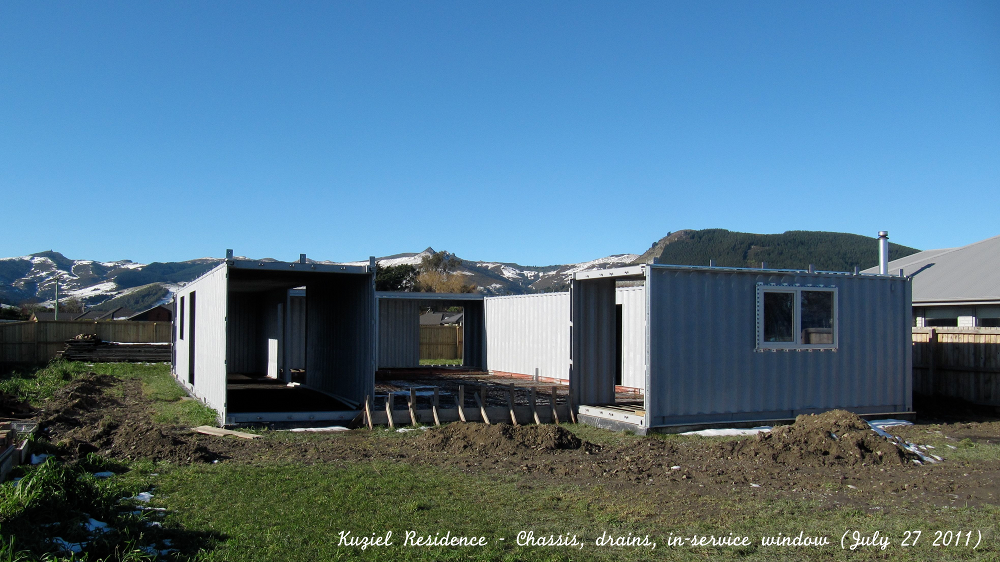 ---
Next: Roof & Floor