Stage of "closing-in" a.k.a making the house weather-tight. In this stage chassis will disappear from outside. We need to make up timber frames where needed (ie. containe door openings), install windows, add external Rondo framing, insulation, house-wrap, and install steel roof and steel weather boards.
Update - September 18 2011
Timber frames, windows
&

doors installation

Ondrej came to start on frames for container openings and kitchen+living room+office corner on Wednesday September 7. We figured it out and I made myself a plan to prepare custom brackets required for the frames by Saturday so we can tackle this one off on Saturday, September 10. Steve finished the roof structure on Friday so it was the next step. I also mentioned to Christian from NK Windows that frames are going to be done so they can installed those doors and windows on Monday. We had to get it done on Saturday. I love deadlines. We managed to get it done and guys from NK came on Monday and installed the windows and doors. Until the frames got done we didn't know exact size of the big bi-fold doors we want to have in the living/dining room. So we have now everything installed in place but the bi-fold. That installation will happen in two weeks.

House frame done. Windows and Doors installed (Sep 17 2011):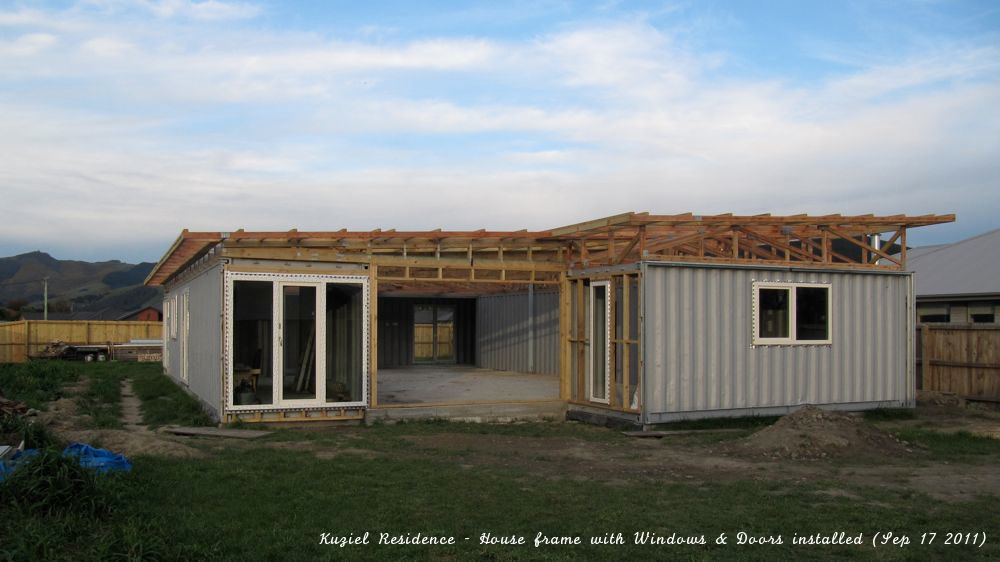 Daily updates - September 2011
20th - bought Rondo rails from Forman; borrowed trailer and picked them up. Ondrej came in the afternoon with 6pcs 7mm H3 plywood. We cut two pieces to go onto kitchen's timber frame around the window.
21st - cut the rest four pieces of ply to make extra bracing for the roof. Gave interview to a freelance journalist for Avenues magazine (The PRESS). Placed and nailed the four pieces to the south-side as per Steve's marks. Finished off framing for the kitchen. Applied expansion foam around the frame to fill cavities in the kitchen and the office.
22nd - cut off expansion foam applied yesterday. Added the two pieces of ply that we cut with Ondrej on 20th. Sealed with silicon.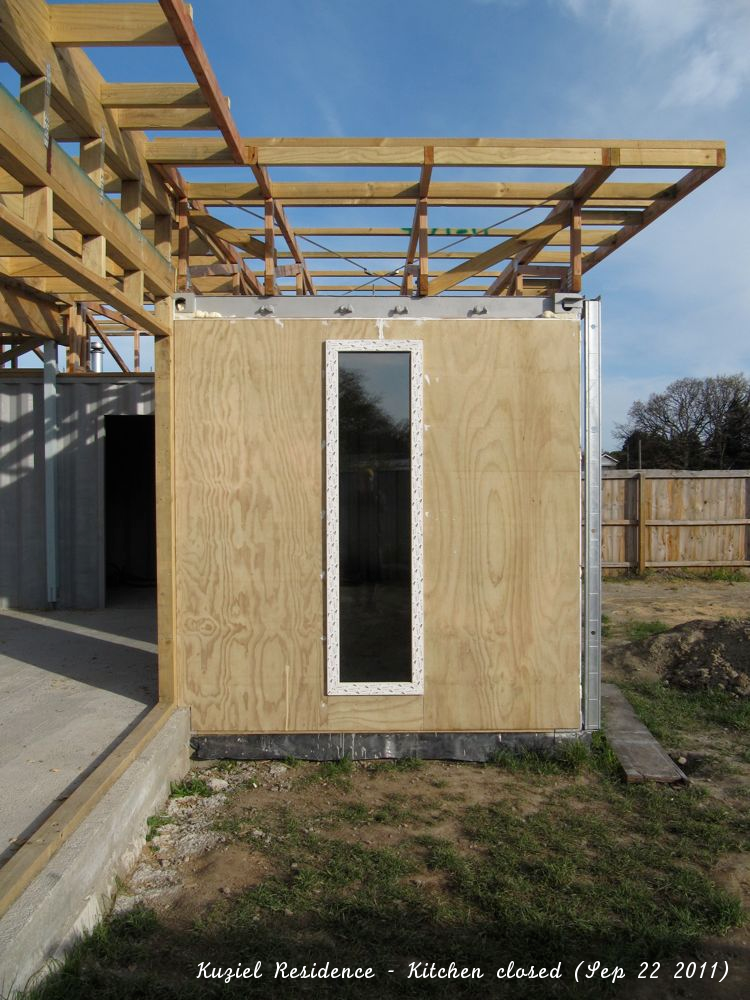 September 22 2011
23rd - started work on very top Rondo rail tracks. It's quite an interesting work when done alone. I used a piece string as my "3rd hand" to hold one side of a rail up where I wanted it.
24rd - continued installation of Rondo rails. Finished off south side and started on the east. Still pain to get it done alone, but now I can do the work quite fast, because of a piece of string I am using to hold the rails up where I need them.
26th - I had 22 additional plates of steel sitting on my office table that need to be welded to containers for the external framing. I decided to do some welding so later I can fully focus on the framing itself. Beautiful sunny spring day, not much wind, ideal for welding. I managed to weld most of the plates on the north side doing work for clients in between. East side to go.
28th - Nice and hot spring day. Managed to finish off all top framing tracks on the east side. Before I start on tracks on the north side I decided to add extra plywood to brace roof trusses. I had enough material that left from adding the ply to kitchen framing and bracing on trusses on the south side. At 5pm a protographer from Avenues magazine, which I gave an interview turned up last week, turned up and we did a photo shoot of the house.
29th - I had a bit of time in the morning to cut the rest of ply for the north side. I ran out of nails and also had to go to discuss material for the roof to Steel&Tube so I left for the day at 11am.
30th - finished off installation of plywood on the north side in the morning and then installed top framing track on the same side. 120lm of tracks to go.
Daily updates - October 2011
1st - Ondrej came to help me with the Rondo tracks. It worked out pretty well. We installed all middle tracks on the north side and also remaining bottom track on the south side. There is still 100lm-ish of tracks to go but all of the hard installation is now done and I can finish off the remaing tracks by myself.
5th - rain since Monday. I went to the site today morning to have a meeting with a valuer. I noticed mud tracks coming out of our property. What? Aha! Guys from NK Windows came in yesterday and installed the last piece: bi-fold doors. From now on one can enter the house only with keys.
6th - I had enough of rain so I went to the site in the afternoon and covered up the roof with tarpaulins. Fun full of adrenalin indeed. I secured the tarps with leftovers from plywood and boxing material.
7th - Made it to the site in the afternoon again to finish off the job on the roof. Added plenty of "Sammy's boxing" material and nailed it to the roof so the tarps won't try to fly away in case of any southwesterly winds. Fingers crossed. After I had the work on roof done I managed to broom the house for the first time. Before I left I took a flythrough video of the house. Here it is:
11th - it rained on Monday. And we had some gusty easterlie winds overnight. It continued raining in periods on Tuesday. I went to Steel&Tube to discuss roofing material. I came to the site in late afternoon and found one of the tarps almost completely torn off along with two five metres long pieces of planks that were suppose to hold the tarp down. Those easterlie winds, eh. I cut of the tarp and placed back planks. Need a new tarp.
13th - another beautiful and quiet day. Decided to finish off all plates for bottom Rondo tracks. More than dozen of plates to go. Managed to get it done by 3pm and had enough time to clean and paint them all. Neat.
15th - periods of southwesterlie rains. I had only few hours in the morning, but I managed to install most of the bottom Rondo tracks on the North side and also added starter stud. I am almost there with the core of the external frame. 17th - it is getting frustrating to not have a roof installed, yet. Another bad weather forecast for the coming days. I decided to re-install the tarp that was torn off.
18th - cold and rain. Continued with installation of Rondo tracks. Good progress.
22nd - figured out how to do framing around office and living room. More brackets to make. Working with Rondo framing is quite easy.
23rd - did a bit more work on living room framing on Sunday.
Daily updates - November 2011
1st - Order and paid for Kooltherm K10 (30mm) underfloor heating system insulation and 90mm polystyren for external insulation.
4th - Picked poly and Kooltherm from Forman's Hornby dispatch.
5th - Spent the whole day making up external framing around kids' bedroom.
6th - Finished off external frame of kids' bedroom.
---
Next: Interior