I haven't done any long distance bike touring before Tour Aotearoa (TA).
I did a bit of research into what gear people take on tours and then I put together a list of things that I had and things that I needed to purchase.
Then I planned out purchases of the things I need so that they spanned across a few months so that I could stay on top of things budget-wise.
The last bits and pieces of gear arrived in January 2020 and I decided to go for a test ride with all the things I thought I needed. For the test ride, I decided to do the St. James trail. I started and finished from Hanmer Springs. 116kms, 2200m of climbing. A tiny bit of sealed road, a lot of gravel, and a lot of trail riding. In other words, the perfect test ride with all the gear before the tour.
I did the ride in a day. I thought I would do it in two, but I was feeling good so I kept riding.
What a great test ride that was! After I got back home, I went through all the gear and created two piles. Yay and nay piles. The nay pile grew nicely and I ended up ditching around 7kgs of stuff I decided to not take with me. And I didn't miss any of those things during the tour!
The only thing I ditched during the tour was a full gas cylinder, because it was 600g and I would only use it a limited number of times during the tour. I never purchased a new mini gas cylinder so my stove and 900ml titanium pot were useless to me, but I kept riding with those since they were light. After ditching the gas I only regretted it once, but the situation was not critical so not having hot meal and drink after riding on a cold day was manageable.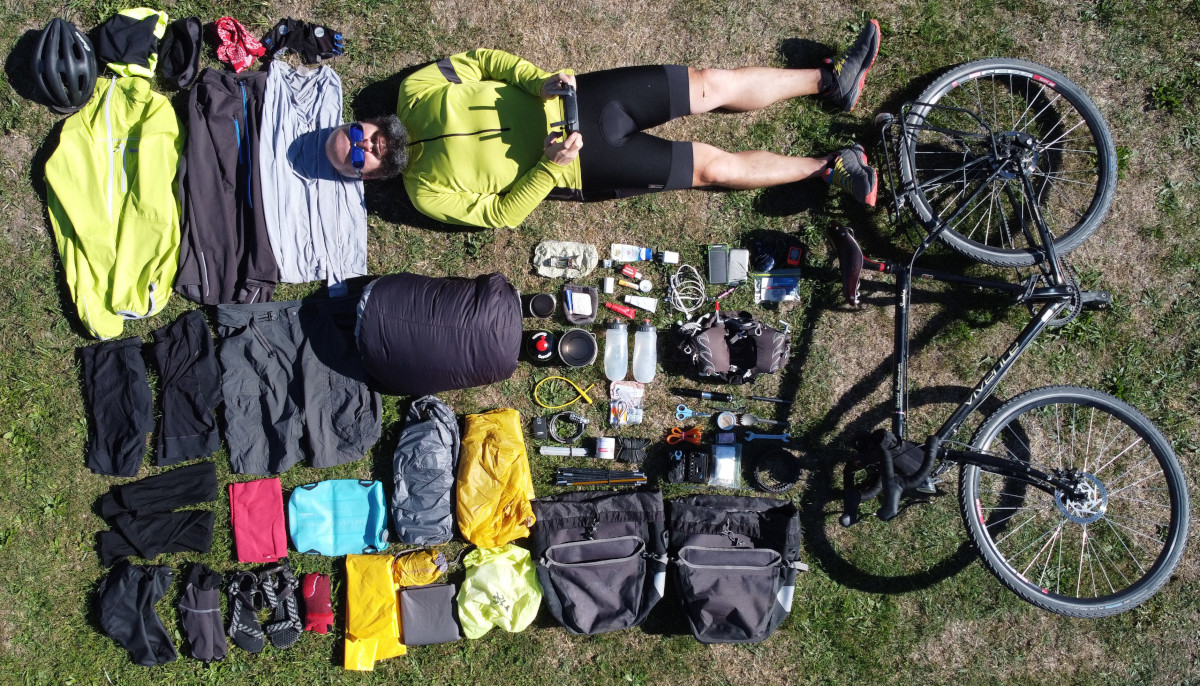 My Tour Aotearoa 2020 gear (hi-res)
Bike
I didn't want to use any of my original bikes for the tour, since I didn't have a proper touring bike.
I also didn't want to use the bikepacking alternative, because I didn't like the idea of riding a mountain bike on at least a thousand of kilometres of sealed roads. Not a good idea, in my opinion.
An excuse to get a new bike doesn't come often enough so after a bit of research I chose Vivente Swabia.
It's a fully rigid chromoly steel bike with dynamo hub in the front wheel, 14 speed Rohloff gear hub in the rear wheel, Gates carbon drive, and eccentric bottom bracket.
The bike came with features I didn't want to carry around so over time I stripped those down.
I took the following items off the bike: fenders, kickstand, bell, bottle cages, steering stabiliser, and luggage strap.
I didn't like the pedals, the seat post, and tires so I switched to Shimano flat pedals, a carbon seat post with my Brooks B17 saddle that I got early 2019 and was already nicely broken in.
I bought the bike in August 2019 and I did roughly 2000kms on it before I went on tour.
Tires
A lot of people during the tour asked me: Are you doing TA on these tires?
It was a frequently asked question so I thought it deserved its own section.
For context, I went for Schwalbe Marathon Plus Tour HS 404, 42-622 (700 x 40C).
The mountain bike bikepacking style was the most common setup among the riders, so my bike and its tires looked a bit awkward amongst all those bikepacking MTBs.
Well, the thing is that I rode the bike with those tires in all sorts of terrain prior to TA like sealed and gravel roads, gravel rail trails, and single trails.
It does take a lot of kilometres of riding to feel comfortable in rougher terrains on a fully rigid bike, but the tires have low rolling resistance, a great puncture protection inside them, and the tread on them delivers on any surface.
Considering that TA is roughly 50% on gravel and 40% on sealed surfaces I was not concerned to ride the remaining 10% on these tires.
Areas of concern would probably be:
The Ninety Mile Beach

My tires were fine on the sand.

Timber Trail

My tires were also fine here. I loved riding the trail. It was really dry, but the dust didn't cause me any troubles. Although, I walked one or two downhill sections that were too steep. But the reason for that was not the tires, but the fact that I had almost no brake pads left at this point.

Whakaroro to Mangapurua Landing

Walked the Kaiwhakauka Stream single track. Once on the 4wd track it was all good. There was no rain meaning that the ground was bone dry up to Johnson's Campsite. Then it rained overnight. It was fun riding in that mud the next day. My tires performed really well. I rode this section with almost no brake pads mostly using rear brake only. I had to get the pads replaced in Whanganui.

Maungatapu Track

I almost managed to ride to the saddle. Then I mostly walked down that descent. It wasn't worth it. As another rider said it: "There was no reward waiting for you after climbing up to the saddle".

Big River

From the boardwalk to Waiuta. The 12km of muddy narrow trail was a splendid walk in the bush. Trying to ride this section would most likely be slower than walking it. I stopped caring how much mud is on me after few hundred meters. It was a proper mud bath. I really enjoyed this is section, though. I did those 12kms in two hours of walking. Then I jumped into the Grey River for a wash. What a day that was. So much fun! Anyway, the tires worked just fine for me.
In summary, I love Schwalbe Marathon Plus Tour HS 404 tires. Great performance, no punctures, low resistance, great tread. Enough said.
Bags
I wanted to minimise the number of bags to carry around so I decided to go with two pannier bags and a waist bag so that I have only three moving parts on the bike to worry about. I also attached one feedbag to the bike and I used a 4l bag to carry water on me and a hi-vis cover for one of the panniers or I used it as a stuff bag to make a pillow when needed.
Pannier bags

Ortlieb Bike Packer x2 - I love these pannier bags. They looked quite bulky because I just stuffed everything in them loosely. Although, the weight per bag was no more than 6kgs when packed on most days, including water and food; which, along with the light handle/waist pack and the feedbag, made up a reasonable total weight.

Handle bars/waist bag

Osprey Talon 6 - It was wrapped around my handle bars most of the time. It was on me when needed (eg. surface too rough and speed to high so it would fall off the handle bars otherwise). The bag comes with two 600ml bottles which I usually had in my back pockets to keep the bag as light as possible.

Feedbag

Blackburn Outpost Carry-All Bag - Perfect for carrying chewing gums, salt, chilli, effervescent tablets, and all sorts of sweets, bars, and other food or beverage items. When needed (eg. rain) I also carried here my mobile and GPS tracker.

Water bag

HydraPak SEEKER 4l Bottle - Great way to carry lots of water around in one of the pannier bags. I also had my powerbanks on top of the bag whilst riding so it acted as a shock resistant for the powerbanks. Disadvantage was that I had to stop and refill my water bottles.

Pannier hi-vis cover

I have a lightweight hi-vis rain cover I took with me. I put the cover on the pannier on the right hand side when riding on busy roads. Along with the tops I wore, this was great for my visibility on busy roads. Another use for the cover was to stuff all my clothes into it and use it as a pillow when camping.
Feedbag Essentials
I had seven essential items that I used often and wanted to have them easily accessible when I needed them while riding so I put them in my feedbag.
Chewing gums

You won't find a tooth brush & paste on my gear list.

Effervescent tables

Used them every day. Tablets turn into dust especially when riding a lot of gravel, or trails.

Salt

I used them couple of times as cramp prevention while riding. Or per usual to salt up my food.

Sunblock

Used the whole tube while riding in the North Island. Not even half of the tube in the South Island. But I used it a lot on the West Coast!

Lip balm

I used it often to prevent cracked lips.

Mini hand sanitiser

To sanitise hands after a toilet stop.

Food

Bars, sweets, etc. Small items for energy top-up whilst riding.
Shelter
&

Sleep

I spent half the TA (12 out of 24) nights sleeping in a bed and the other half in my tent and once on a bench in a shelter.
Tent

Fly Creek HV UL2 Bikepack - This is an under 1kg tent including a footprint that you have to buy separately. I bought the two person version which fits a single person perfectly. I would not use this tent for two people for long distance touring, though. Anyway, the tent performed well for me.

Sleeping mat

Sea To Summit UltraLight ASC Mat - A new mat that I only used once before TA. It squeaked terribly first few nights, but got better later on. It performed really well, though.

Sleeping bag

Lafuma Warm n' Light 1 Kilo Down - It's bulky and performs extremely well. Still just a kilogram of weight to carry around which is really good.
Cooking
Even though I knew that a stove and gas cylinder are the most common item to dispose of on the tour I still thought that it's going to be different for me. It was not. I got rid of the cylinder early on the tour and I kept riding with the rest because the rest was not considerably heavy.
Stove

MSR Pocket Rocket - Great lightweight stove. I didn't use the stove on the tour, though.

Gas cylinder 500g

Ended up ditching this three days into the tour, because it was way too heavy. If anything then 100g cylinder would be much better choice for TA.

Spices

Carolina Reaper chilli powder - Didn't use it, but it's only 3g it so it didn't concern me to have it on me at all times.

Pot cleaner

Didn't use.

Cloth

Didn't use.

Lighter/matches

Didn't use.

Small stuff sack

Didn't use.
Pots
&

Utensils

One titanium pot and spork did the job for me during the tour. Didn't really need the bigger pot.
Pots 900ml + 420ml

I only used the 420ml pot for making cup of coffee or a cup of soup. I used the 900ml once to hear up pre-made meal. Having 420ml on me only would be good enough.

Spork

You can use a spork as a knife, too! I used it for slicing cheese or spreading cream cheese on pita bread.
Toiletries
I kept things really simple and covered the very basics only. I carried chewing gums in my feedbag, because carrying a tooth brush (even though I cut its handle off) and tooth paste seemed too heavy for little gain to carry around all the times.
Shampoo

Used it as universal washing liquid for the gear and myself.

Towel

Used it as a towel, but also as extra wind/frost protection when needed.

Toilet paper

Usually available, but there were cases when my own roll was needed.
Monies
&

Stuff

Having cash on me was essential in quite a few places. Majority of times I just used my EFTPOS card to pay for things.
Cash

Good to have for places without EFTPOS machines. Also small change for DOC campsites is also really handy to have ready.

Credit & debit card

Need to buy more food and drinks somehow.

Driver's licence

Form of identification just in case.

Notebook & pencil

Good for keeping notes when needed.
Health
&

Safety

To stay happy and healthy.
Sudo cream

Used daily after ride. Stopped using from day twelve onwards. But still carried it around in case I would need it at some point which is always a possibility.

Saddle cream

Used it often to keep the saddle happy.

Balm cream

For cuts etc. Used it few times.

Pawpaw Ointment

For bites etc. Used it few times.

Aloe Vera Cream

For sun burns and dry skin. Used it quite a bit. Especially on the North Island.

Panadol

I always carry few of these on me. Used in the first three days on the tour. Didn't need for the rest of the tour.

Plasters

Few smaller and bigger ones just in case. Didn't need to use them.

Whistle

In a case of emergency. Didn't need to use it.
Devices
I wanted to have all devices USB powered so that I could've charged my powerbanks via the dynamo hub then charge my devices from the powerbanks. When electricity was available then I would charge the devices first and then topped up the powerbanks. That way I had always my devices fully charged and ready every day on the tour.
Smartphone

Samsung XCover 4 - Android phone with 128GB micro sd card for a lot of media storage. Also used for reading the TA PDF guide and Strava tracking. Sometime for connecting Earthmate app to Garmin inReach for navigation in difficult terrain.

GPS Tracker & Communicator

Garmin inReach Mini - Great little device (100g!) that works perfectly. Charged via USB port.

Headlamp

USB chargeable headlamp with lots of lumens.

Extra rear light

USB chargeable small red rear light for the helmet. Used in the evenings/mornings or on busy roads.

Solar powerbank x2

Primary and secondary powerbank. I charged up the powerbanks using the dynamo hub whilst riding and then charged up devices of the powerbanks. That way the devices get stable input from the powerbank rather than variable input from the dynamo. When not being charged, the powerbanks were stored inside one of the pannier bags on top of the 4l water bottle that acted as a shock resistance.

USB cables x2 (+ backup x2)

All my devices are either micro USB or USB-c so I had one primary and one backup cable on me. Ideally the backup cables should be inside the pannier bags and the primary ones in the waist bag for easy access.

USB charger

Single USB charging port one. It would be nicer to have a charger with two USB ports, but I managed to charge everything up with a single USB port.

64GB SD Cards x2

Didn't need these.

SD Card Adapter

Didn't need it.
Security
I ended up with three different lightweight locks and used one, two or all three of them depending on a situation. I also had a couple of utility straps which came in really handy.
Locks

1. ABUS retractable lock. Great little lock from ABUS. I used it a lot when going to dairies, cafes, etc. to refuel.

2. HipLok x3 - I had two simple HipLoks with a mechanical key to open them up and one with a three digit combo lock. I barely use the simple ones. The combo lock one was nice to have.

3. Cable with a four digit combo lock. Bought this in Whanganui because the ABUS with Hiplok didn't feel safe enough.

Straps

Black Diamond Utility Strap x2 - These are very handy!
Tools
All necessary tools that I need for my bike.
Pump

Lezyne Tech Drive HV Pump - I used the pump twice on the tour. Once in the North Island and second time on the South Island, both times to top up my rear wheel a bit.

Tyre lever

I didn't need to use, although a must-have item.

Ratchet Set

Lezyne Ratchet Kit - Used couple of times to reset my brake pads. Essential item.

Scissors

Used couple of times.

Spanner 14/16

Used only once when a truckie asked me if I had a spanner on me so that he could use it to fix his truck. It did the job. Priceless.
Repairs
Essential items to be able to fix things.
Puncture patches

Didn't need to use. Essential item.

Tent repair tube

Didn't need to use. Essential item.

Thermarest repair kit

Didn't need to use. Essential item.

Zip ties x10

Always handy to have a few zip ties around.

Safety pin

Used for getting rid of a splinter. Essential item.
Spares
Few essential spare items so that I could repair things if I needed to.
Gates carbon drive belt

The only thing that can get damaged in the whole setup so it pays off to have a spare one. Didn't need to use it, but it is lightweight and not that bulky so no drama carrying it around.

Ortlieb bag bolt

One of the bolts on my pannier bag fell off on the last day of the tour. Fixed it with the spare one.

Spokes

Came with the bike. Two spares per wheel.

700cc tube

I didn't need to use, although it's an essential item.
Clothes
I love GroundEffect (GE) products. They are a New Zealand business and produce their stuff locally. Also, their products are very well made and durable as. Worth every cent.
Helmet cover

Goretex helmet cover for when it is raining or weather is miserable. Keeps the head warm.

Helmet

Catlike Origen - Lighweight helmet. I am really happy with it.

Hat

Baked Beanie (GE) - Love this beanie. Lost one on the tour on day 1 at the beach somewhere. Had to re-purchase for riding South Island.

Sunglasses

Any sunglasses do the trick for me as long as they are cheap.

Neck gaiter

I've had one from Kathmandu for so many years that I am surprised it is still holding up.

Rain jacket

Rivet (GE) - Works well. Looks and fits good, too.

Long sleeve jacket

FrostyBoy (GE) - Either used for after ride to keep me warm or on when riding in cold weather.

Long sleeve riding top shirt

Rock Lobster (GE) - Riding top for every day use. Does not smell as badly as I thought it would and definitely not to me.

Long sleeve base layer shirt

Ignite (GE) - I used this shirt for after ride as my camp / sleeping shirt. Super warm.

Short gloves

Quickdraws (GE) - Essential. When too cold, socks over the short gloves done a great job to keep me warm.

Bibs

Tournados (GE) - I've not had bibs in my life so when it came to purchase these I was just not sure. It took me quite a bit to get used to riding in these. They are great, but for first half of the tour I just preferred riding in the Flatliners. In the South Island I started wearing the bibs more and more and it was great. Didn't even need to wash them as often as I thought I would. Oh, and I do not use any cream while riding.

Shorts

Kathmandu - Quick dry material shorts for either wearing on top of the liners when I was in public and could be spotted by the fashion police, or I wore them commando style after ride to let the bum dry up.

Liners

Flatliner x2 (GE) - For a long time I was looking for liners that would work for me. Turns out that what I needed are Flatliners from GroundEffect. They don't have any padding which I found perfect for riding on my 'Brooks' saddle. Mostly I worn these without any shorts on top because that way they would dry as quickly as possible and I never had any issues with chaffing or needing to cream up. Priceless.

Leg warmers

Half Pipes (GE) - I wasn't sure how to feel about these, but they were great for freezing mornings on the North Island and the South Island.

Long socks

Kathmandu MerinoLINK Snow Sock - Bought in after season sale for $20. These merino long socks were great for after ride, as anti sand-fly protection, when riding in cold down south, as a hand cover over gloves, as socks to wear during cold night, etc.

Low cut socks

Kathmandu driMOTION low cut socks - my usual low cut socks for every day riding.

Shoes

Asics GT2000 - My intention to buy myself a pair of running shoes and start running some time ago turned into custard when I ran a kilometre; the experience turned into hell because of my leg injury from 2018, so instead of running in them I started using them for riding. And what a great pair of shoes for riding these are! I ride flat pedals so I don't have any special needs for my shoes other than they need to be super light. And these shoes are super light.

Sandals

I have had this pair of sandals since the '90s and they haven't broken yet and are light enough that I keep using them. Perfect for riding on a hot day or in rain or great to switch into after long day of riding when my feet need a bit of fresh air and rest.

Shoes covers

BBB - When it is raining I prefer to ride in my sandals with the shoe covers on. That way my feet are warm whilst keeping my shoes dry inside one of the pannier bags.
---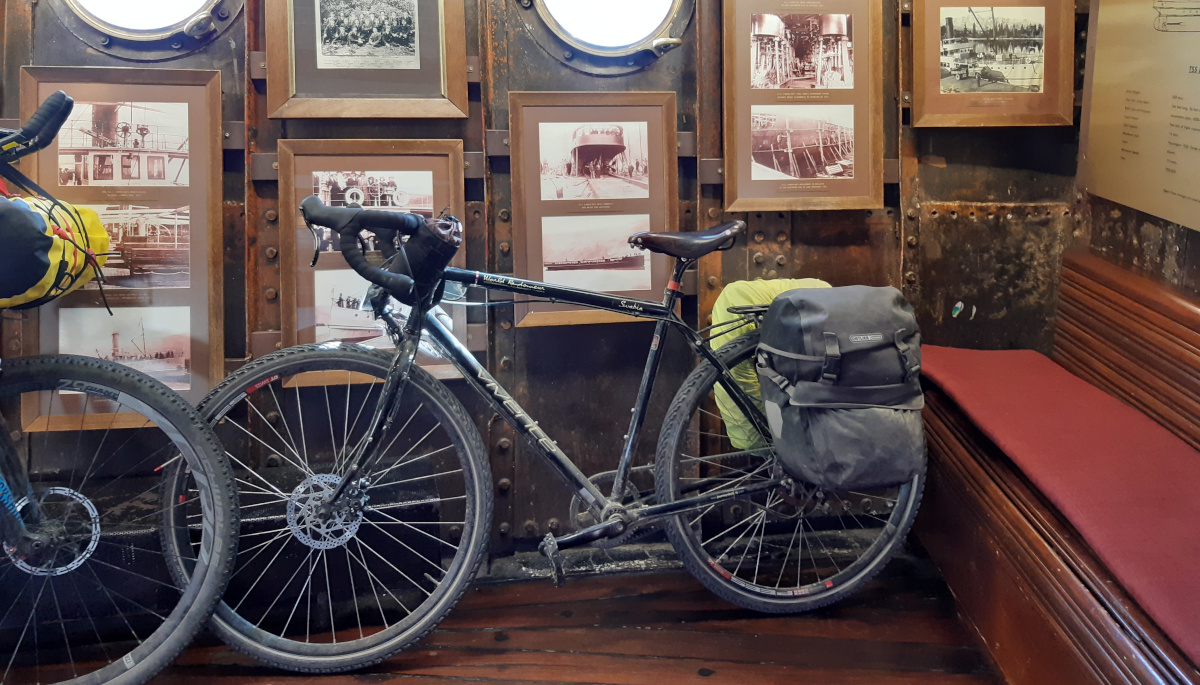 My Tour Aotearoa 2020 bike setup.